Professional Cleaning Services
Our cleaning process is customized for each individual rug - removing risks of dye bleeding, shrinkage, or damage – while eliminating stains, odors, and contaminates. We start with a thorough evaluation and end with a complete drying.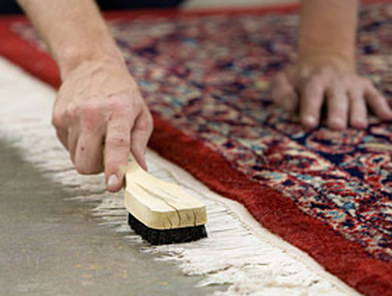 It is inevitable that your rug is going to get dirty. If you are in need of a rug cleaning, our experts go through an extensive cleaning process that includes several stages.
Prior to cleaning, each rug is thoroughly inspected upon its arrival so that our clients can receive a full understanding of what needs to be done. We provide a clear and thorough explanation as to the condition of your carpet as well as the methods that must be utilized to restore your rug's beauty.
Anyone who is familiar with the process needed to clean your oriental rug will explain the loose dirt and dust contained in the rug's foundation are responsible for premature wear and tear. The dirt that has found its way into your rug causes the fibers to undergo unnecessary damage. Therefore, it is of paramount importance for us to remove this debris prior to cleaning in order to help maintain the integrity of your carpeting.
Here at our Las Vegas facility, we hand wash the oriental rugs brought to us to ensure a gentle process. The shampoo utilized during this process is specially designed for oriental rugs, ensuring that it cleans your rug properly and gently in order to protect the color and condition of each fiber.
During the extraction process, our professionals utilize specialized equipment to remove as much of the cleaning solution from the rug as possible. Once the rug has undergone the rinsing process, we conduct the extraction a second time, removing the majority of water from the fibers in order to hasten the drying process.
All Oriental rugs require proper grooming so that the fibers lay in the proper direction. The grooming processes helps to create uniformity in the pattern, while also optimizing the reflection of light that lands on the rug's surface.
Our drying process utilizes specialized air movers to create the gentle flow of air needed to ensure even drying of the upper and bottom portions of the rug.